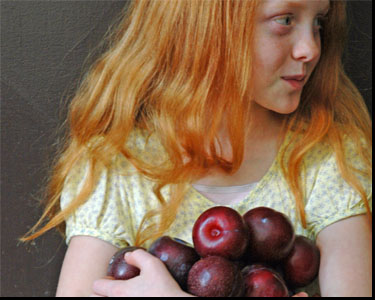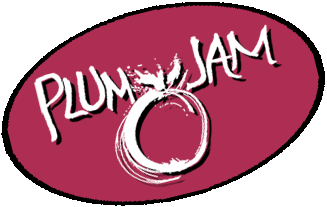 Music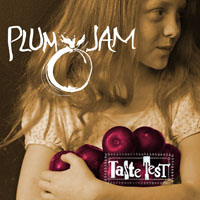 You can purchase your very own copy here:
Or you can buy individual songs here: iTunes
Listen to excerpts of Plum Jam's debut CD, Taste Test:
1. Shaky Junction
(Paul Rosen © 2005)
Paul also plays in a contra dance band. One of the medleys worked well, except the first tune was too much work. They decided they needed a simple tune in Gm with drive and mystery that had an F# in the second part and ended in the middle octave. Paul asked, "Like this?". The name refers to what Paul found in the crawl space when rewiring his house.
2. Deep Elem Blues
(Traditional)
This has been recorded lots of times, but rarely with a Cajun accordion. The idea came from Carolina Gator Gumbo, who have a similar version in their repertoire. It is a warning about the wild part of town and what will happen if you go there. We do play some straight Cajun tunes, but we also love injecting a Cajun feel into other types of traditional music.
(Janice - Lead Vocals)
3. Payday Blues
(Daniel Hicks © Oh Boy Music Company)
How sad. Lots of money, a partying spirit, and no one to share it with. This is a fun song, at least until the next morning. (Sandy - Lead Vocals)
4. Sweet & Sour Rag
(Paul Rosen © 2005)
This rag was percolating for a while and there were a few early drafts that were thrown away. Then this just popped out all at once.
5. Sugar Moon
(B. Wills, C. Walker © Anne-Rachel Music, Hill & Range Songs)
Bob Wills was the master of Western Swing, and here's one of his sweet songs about love gone right. (Janice - Lead Vocals)
6. First Street
(Paul Rosen © 2004)
Once a week, some C'ville old time musicians play tunes at lunch in a restaurant downtown. "A modal" is a popular key among the regulars and Paul was noodling around between tunes and got most of this. Thanks to Peter for recording it on his cell phone. Also thanks to Jim for learning it first. At the time we played at Gravity Lounge, which is on First Street.
7. There's Something in My Eye
(Lyrics by Paul Rosen, Music by Susan Bunn Rosen © 2003)
Paul was listening to a lot of Fats Waller around the turn of the century and was wondering why no one wrote songs like that anymore. Meanwhile, Paul and Susan started dating and were joking about the cheesy "There's something in your eye" pickup line. The lyrics took a few days of emailing but the tune had to wait a year until we were married and had more time to write. (Sandy - Lead Vocals)
8. I've Got the Morning Blues
(Traditional)
Uncle Dave Macon popularized this tune. We bring it to Louisiana. (Sandy - Lead Vocals)
9. When I Take My Sugar to Tea
(Pierre Norman, Sammy Fain, Irving Kahal
© Famous Music, LLC)
This is an example of one of the songs they don't write anymore. Of course, it did take three guys to do it. (Paul - Lead Vocals)
10. Persian Cat
(Music Paul Rosen © 2005, Lyrics Janice Malec & Paul Rosen © 2006)
This tune also popped out at the lunchtime jam. Sandy named it, then insisted it needed words.
11. The L&N Don't Stop Here Anymore
(Jean Richie © Geordie Music Publishing Co.)
This song sends shivers down our spine and Sandy gets all misty over the lyrics. Jean Richie is from the mountains of southern West Virginia, and so are many of our ancestors.
(Sandy - Lead Vocals)